Bio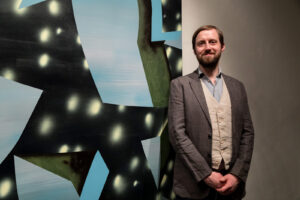 My painting practice centres around ideas of improvisation, playing with the dynamics of perception, and searching for form that lies just outside of my grasp.
In my paintings I'm looking for a sense of recognition and yet also a suspension of resolution.
I attempt to provide experiences where uncertainties are accepted, form and meaning are impermanent, and structures are imposed but then broken.
Paint, with its ability to suggest, conceal, reveal form, and create or problematize space, offers an ideal vehicle to explore this type of experience further.
I typically begin my paintings by focusing on materials and process and by inviting elements that lack premeditation or planning into the decision making.
Through the use of improvisation, intuitive structures, and openness to possibilities, I am able to proceed in a painting without fixing my view or knowing what the painting will eventually be.
As the painting process unfolds I will add disruptive elements to continually change the spatial or associative context that I understand the painting to be in. I do this by both including spaces that contradict previous layers, and also by echoing the initial shapes across the canvas in different ways.
I am able to maintain a state of uncertainty while working as I include one layer overtop of another, creating tensions between disparate elements while also revealing their interconnectedness.
The kind of painting I'm aiming for is one where I'm not able to totally grasp it, and yet it doesn't push me away, and so I want to just stay with it and remain curious of the ambiguities.
Curriculum Vitae
2010 MFA, NSCAD University, Halifax, NS
2007 BFA, University of British Columbia Okanagan, Kelowna, BC
2006 Hamburg University of Applied Sciences, Hamburg, Germany
2021 We Cannot Say It Is There, And Yet We Cannot Say It Isn't, Vernon Public Art Gallery, Vernon, BC
2020 Distance. Motion. Moment., Harcourt House Artist Run Centre, Edmonton, AB
2017 PULL, Comox Valley Art Gallery, Project Room Studio, Courtenay, BC
2015 A Piece of the Ground, A Piece of the Sky, Two Rivers Art Gallery, Prince George, BC
2014 Syncopate For, Forest City Gallery, London, ON
2012 Taking Shape, Galerie BAC, Montreal, QC
2010 Unfixed, Vernon Public Art Gallery, Vernon, BC
Subject to Change, MFA Thesis Exhibition, Anna Leonowens Gallery, Halifax, NS
2021 The Line Between, Gallery Jones, Vancouver, BC
2020 FIFTEEN, Kelowna Art Gallery, Kelowna, BC
2019 Approaching Painting, Comox Valley Art Gallery, Courtenay, BC
2018 JuxtaPositions, The Painting Center, New York, NY
Horizon Felt, Campbell River Art Gallery, Campbell River, BC
Framed Spaces: Contemporary Canadian Painting Exhibition, Arcite Inc., Windsor, ON
2015 Bus, FINA Gallery, UBC Okanagan, Kelowna, BC
2014 El Arbol de la Garceta, Fentrol Cultural Ajijic, Ajijic, Mexico
2013 Extreme Painting, Galerie BAC, Montreal, QC
2011 Voices of Fire: Towards a Postmodern Theory of Abstraction, curated by Benjamin Klein, Galerie SAS, Montreal, QC
2010 12th RBC Canadian Painting Competition (The Power Plant, Toronto, ON; Dalhousie Art Gallery, Halifax, NS; Art Gallery of Northumberland, Cobourg, ON; Art Gallery of Calgary, Calgary, AB)
2022 Canada Council Research and Creation Grant
2020 Canada Council Research and Creation Grant
2019 Canada Council Concept to Realization Grant
Canada Council Professional Development Grant
2018 BC Arts Council Project Assistance Grant
2011 Honourable Mention – HRM Contemporary Visual Art Purchase Program
2010 Semifinalist – 12th RBC Canadian Painting Competition
Nova Scotia Tourism, Culture & Heritage Presentation Grant
2009 SSHRC Canada Graduate Scholarship – Joseph Armand Bombardier
BC Arts Council Senior Scholarship Award
2008 BC Arts Council Senior Scholarship Award
2018-19 Advanced Mentored Study with Enrique Martinez Celaya, Anderson Ranch Arts Centre,
Snowmass Village, CO, USA
2017, Comox Valley Art Gallery, Courtenay, BC
2014, Spark Box Studios, Picton, ON
Bus from Guadalajara, Ajijic, Mexico
2017-Present, North Island College, Courtenay, BC
2012-14, OCAD University, Toronto, ON
2012-13, University of Manitoba, Winnipeg, MB
2010-11, NSCAD University, Halifax, NS