Bio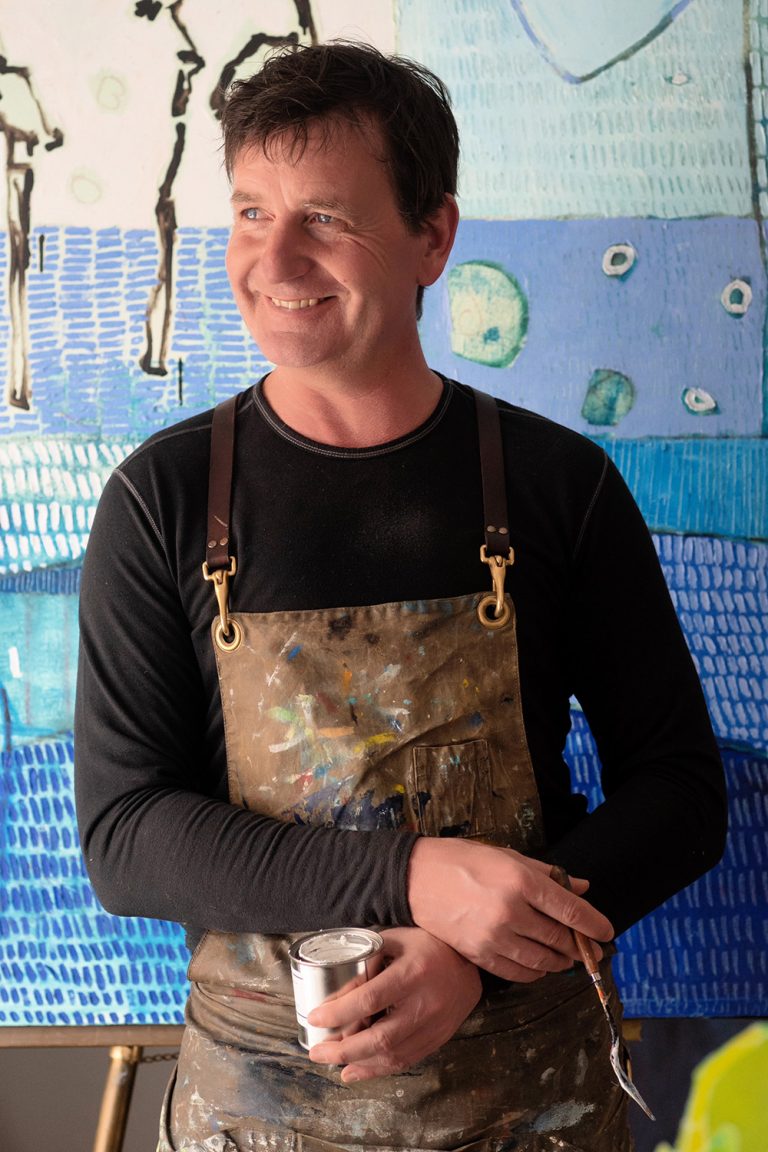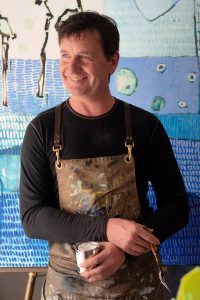 Christopher Griffin, a young Canadian artist, has exhibited his work throughout the western hemisphere; Canada, USA, Guatemala and Honduras. His works are inspired by his extensive travels and his impressions of foreign cultures and environments. Specifically, his trip to Papua New Guinea, where the Papuan people gave him "a glimpse of what it means to be human". In the words of Christopher Griffin: This exposure to a spiritual, fundamental existence has caused me to re-examine my own work. I have become more involved in the process of creating. I am allowing the accidental and unconscious guide my work. I am having fun." Corporate collectors of Christopher's work include Aird & Berlis Barristers and Solicitors, Bank of Colorado, Uniglobe Enterprise Travel Limited and Ukrainian Canadian Art Foundation.
'Christopher Griffin's paintings express a sophisticated primitivism. His distressed surfaces are made up of various markings and scratches and his work and method of execution invite the accidental to come in and make an entrance. He is inspired by cave paintings, children's art and outsider art.'
Curriculum Vitae
2021
Finalist, Cambridge Street Public Art, Ottawa, ON
2018
Artist in Residence for the community of Vanier
Finalist,   Maple Island Public Art Project, Ottawa, ON
2017
Along The Boards,   Canterbury Outdoor Community Rink, Ottawa, ON
2016
CAMH (Centre for Addiction & Mental Health),   ongoing, Toronto ON
2015
House of the Great Blue Heron,   Glebe Parking Garage, Ottawa, ON 
Wildlife,   Corpus Christi School, Ottawa, ON
Finalist,    St. Luke's Park, Ottawa, ON
Finalist,    Light Rail Transit System, Bayview Station, Ottawa, ON
2014
Peregrine Falcons,   Riverside Dr./Bronson Ave. underpass installation    
Blanding's Turtles of the South March Highlands,  Beaverbrook Library,Ottawa,ON  
Raccoons,   Glebe Community Centre, concrete sculptures, Ottawa, ON
2013
Finalist,    Ottawa Light Rail Transit System, City of Ottawa
Finalist,    Centretown Citizens Ottawa Corp.       
2012
Raccoons,   441 Maclaren Street Concrete Mural, Ottawa , ON
Walleye,    34 Brighton Street Concrete Mural, Ottawa ON
Finalist,    Kanata North Skate Park, City of Ottawa
2011
Graffiti Nature,   Ledbury Park Pavilion, concrete facade, City of Ottawa
2009
Finalist,    Huron Early Childhood Education Centre, City of Ottawa
Finalist,    Public Art in Sandy Hill Park, City of Ottawa
2008
 O'Connor Street residence & studio,  concrete facade, Ottawa, ON
City of Ottawa,   Bank Street public art installation, bicycle racks
2000
Millennium Thumbprints  bronze sculpture   City of Kitchener, City Hall
2012
of Monkeys,  ORESTA gallery,    Ottawa, ON
2010
Tortuga,  Trias Gallery    Toronto, ON
2008
Asphalt & Concrete,  Harbinger Gallery    Waterloo, ON
Play,  SOPA Gallery    Kelowna, BC
Weather Pattern,  Trias Gallery    Toronto, ON
The Temperature of Colour,  West Branch Gallery    Stowe, VT
2007
Ground Rules,  SOPA Gallery    Kelowna, BC
2006
Migration,  Trias Gallery    Toronto, ON
Le Soleil,  Galerie Gillygooly    North Hatley, QC
2005
Parking Lot,  Dale Smith Gallery    Ottawa, ON
2004
Kalyna,  Ottawa City Hall Gallery    Ottawa, ON  
New Life,  Harbinger Gallery    Waterloo, ON
Recent Works,  Trias Gallery   Toronto, ON
2002
Basic Stance,  Trias Gallery   Toronto, ON
Grid,   Robert Langen Gallery   Wilfrid Laurier University, Waterloo, ON 
2000
Empty Vessel,  Arcturus Gallery   Toronto, ON
Raven,  KOR Gallery   Kitchener, ON
Ten Dead Birds,  Rotunda Gallery   Kichener City Hall   Kitchener, ON
Irian Jaya,  Cambridge Galleries   Cambridge, ON
1999
Mamberamo,  Esther Prangley Rice Gallery   Western Maryland College, MD
1998
Symvolika,  Oseredok Ukrainian Cultural Centre   Winnipeg, MB
1997
Newfoundland Shore,  Network Gallery, First Canadian Place   Toronto,ON
Selo,  Ukrainian Canadian Art Foundation    Toronto, ON  
1996
People of Honduras and Guatemala,  Queen's Quay Gallery   Toronto, ON
1995
El Sitio Gallery,   Antigua, Guatemala
Municipalidad Centro,   Trujillo, Honduras 
Island Mountain Gallery   Wells, BC
1994
Homer Watson Gallery   Kitchener, ON
2019
Kaleidoscope City of Ottawa Public Works Collection, Karsh-Masson Gallery, Ottawa
2016
The Grand Tour  SOPA Gallery,    Kelowna, BC
City of Ottawa Public Works Collection, Karsh-Masson Gallery,   Ottawa, ON
2015
This is Us Now,  Karsh-Masson Gallery,    Ottawa, ON
2014
Portage  Nuit Blanche,    Ottawa, ON
2013
SuperNova  Nuit Blanche,    Ottawa, ON
Planet Elephants  National Arts Centre,    Ottawa, ON
Planet Elephants  Centrepointe Theatre,    Ottawa, ON  
2012
Planet Elephants  Nuit Blanche,    Ottawa, ON
2010
Playground,  SOPA Gallery    Kelowna, BC   
Going to the Dogs,  Alan Avery Art Company   Atlanta, GA
New Mythology,  West Branch Gallery    Stowe, VT
2006-15
U8,  SOPA Gallery    Kelowna, BC
2006
Works on Paper,   Dale Smith Gallery    Ottawa, ON
2003
Small Works,  Trinity Gallery    Atlanta, GA
2000
KWAG   Kitchener – Waterloo Art Gallery    Kitchener, ON
1999
Trinity Gallery    Atlanta, GA
Ontario Society of Artists   John B. Aird Gallery   Toronto, ON
1995
Insights Exhibition   Elora, ON
1994
Society of Canadian Artists   John B. Aird Gallery   Toronto, ON
1993
Mississauga City Hall   Mississauga, ON
      Etobicoke City Hall   Etobicoke, ON
2021
Ottawa Urban Design Awards, Award of Merit/Community Initiatives: Threatened Rhinos of Bayswater
2020
Pandemic auction for the Ottawa Food Bank $65 000 +
Ottawa Art Gallery Critics Choice award: in collaboration with Jake Riseborough/BEING Studio
2019
published 'Pieces', a book of community engagement & graffiti
2018
Artist in Residence for the community of Vanier
2015
Award of Excellence, Ottawa Urban Design Awards
Blanding's Turtles of the South March Highlands, Beaverbrook Library,  
2014
Ottawa Citizen, Big Beat, 10 Best Art Events in Ottawa, Peregrine Falcons
2013
Ottawa Citizen, Big Beat, 10 Best Art events in Ottawa,  SuperNova
City of Ottawa  Permanent Collection
2009
City of Ottawa Housing Design Awards: Best Housing Detail 
City of Ottawa Housing Design Awards: Green Renovation of the Year
2008
City of Ottawa , Bank Street public art installation
2007
Province of Ontario Collection
2006
City of Ottawa Permanent Collection
2005
Canadiana Fund, Official Collection of Canada's Residences; Rideau Hall, Stornoway, The Citadel
2004
City of Ottawa Exhibition, Kalyna
2000
Ontario Arts Council  Exhibition Assistance Grant
1999
Main Street Ontario Millennium Grant
Gallery Arcturus Exhibition Award,  Toronto Outdoor Art Exhibition
1993
Richmond Hill Public Library Permanent Collection
Beaverbrook Public Library
Emmanuelle van Rutten
Director
B.Arch, OAA, OAQ, MRAIC, LEED AP BD+C
MORIYAMA & TESHIMA ARCHITECTS
109 Murray Street,  Unit 3, Ottawa, Ontario, Canada K1N 5M5
613 562 2908
mtarch.com
Shopify Headquarters
Andrew Reeves
architect/owner
Linebox ARCHITECTS
126 York Street,  Suite 503, Ottawa, Ontario, Canada K1N 1K8
613 216 2609
linebox.ca