Bio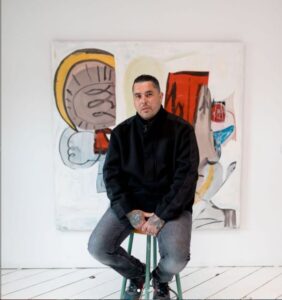 The paintings of Tyler Toews feature bold compositions blocked out in bright colours often utilizing loosely representational elements. The work incorporates the aesthetics of street art, from areas of paint drips to the artist's signature scrawled in thick paint like a graffiti tag in the bottom corner of a canvas. In some works, abstract elements merge into faces sporting crudely painted jagged teeth and geometric facial features. In others, Toews covers much of the canvas in swaths of colour applied in sweeping brush strokes, creating a unique vocabulary that combines abstract expressionism and gestural painting styles. ​
Tyler Toews returns with a commanding new body of work this November at Back Gallery Project. Marking his third solo exhibition at BGP, Toews' new paintings are full of the gestural energy one has come to expect from this rising star. Adept at creating bold compositions that threaten to spill out of their frames, Toews draws equally from the traditions of street art and historical abstraction. Cubist-inspired faces exist alongside spills and slathers of paint that create a distinct conversation about the convergence of art history and street styles. Culled from his childhood graffiti handle, the title of the exhibition speaks to the artist's interest in the unknown, both internal and external.
Noah Becker, publisher of White Hot Magazine, noted in 2014: "Tyler's colour is good and his brush strokes and gestural marks have the confidence and authenticity of major expressionists. Basquiat and DeKooning come to mind but beyond shallow references […] Tyler struck me as an authentic creator of exciting new paintings."
Working for the last several years as the assistant to painter Attila Richard Lukacs, Toews has taken the consistent studio time to heart. Using the studio as a place to work, experiment, and grow, the painter has become more confident in his handling while continuing to excel as a dynamic colorist. Moments of clarity within his writhing compositions yield crisp masks and architectural elements reminiscent of the metaphysical paintings of Giorgio di Chirico. These lulls in the chaos serve as poignant counterpoints to Toews' furtive brushstrokes and wandering linework. The artist continues his practice in Vancouver, BC.
Curriculum Vitae
2021 Into the Void, Sopa Fine Arts, BC
2021 Swim, Drink, Fish, Art Auction, International
2020 Masking, Howard 495, Vancouver, BC
2020 Out of the Box, holiday show, Sopa Fine Arts, Kelowna, BC
2020 Splash Arts Umbrella & Auction Event, Vancouver, BC
2020 Conversations with Paint, solo exhibition, Sopa Fine Arts, Kelowna, BC
2019 Gifted, group exhibition, Sopa Fine Arts, Kelowna, BC
2019 Splash Arts Umbrella & Auction Event, Vancouver, BC
2019 He Who Marches Out of Step Hears Another Drum, Vancouver, BC
2019 All Hands on Deck, Sopa Fine Arts, Kelowna, BC
2019 Artist in Residence, Burrard Arts Foundation, Vancouver, BC
2019 Metamorphosis, solo exhibition, Sopa Fine Arts, Kelowna, BC
2018 On the Flip Side, Sopa Fine Arts, Kelowna, BC
2018 Selected Works, Back Gallery Projects, Vancouver, BC
2018 Strokes of Venus, Sopa Fine Arts, Kelowna, BC
2017 Cosmic, solo exhibition, Back Gallery Projects, Vancouver, BC
2017 Galleries West, interview with Portia Preigert, Calgary, AB
2016 Traffic, solo exhibition, Back Gallery Projects, Vancouver, BC
2016 North Shore News, with Rosalind Adnani
2015 Eastside Cultural Crawl, Vancouver, BC
2014 Freestyle, solo exhibition, Back Gallery Projects, Vancouver, BC
2014 Vancouver Sun with Kevin Griffin, Vancouver, BC