Bio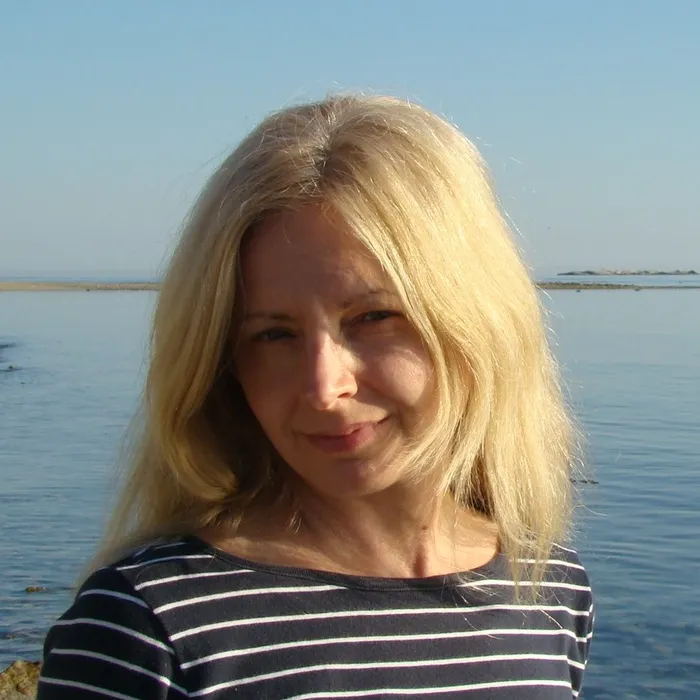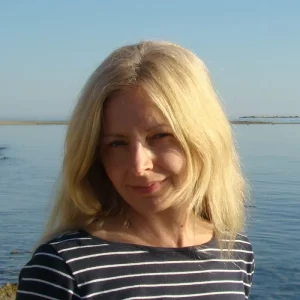 After twenty years of living and working in Vancouver she moved to Powell River BC.
She follows her love of painting since she was a child. After attending a traditional school of drawing and painting she graduated from University of Novi Sad ,Academy of Fine Arts.  / former Yugoslavia
She is a multiple awarded artist. Sonja has experience working with many mediums but favours acrylics over all. Her unique style is apparent in every piece she creates; it stretches from intricate whimsical personal iconography to abstract pieces  with always recognisable brushstroke.
Statement
My work in visual arts reflects the constant changes, experience in my personal life.
I am guided by my feelings, thoughts, dreams and visions.
The sources of my inspiration are many :an appreciation ;I love to look for traces of the people who came before and clues about what they did there and why.
Journeys are an integral part of the inspirations. I am always intrigued by the human cultural elements and visual stimulation that I encounter. I find that every place and culture reveals its beauty to me in the everyday life.
I like to use symbols in my art work and creating my personal iconography. The symbols are the clues to many aspects of my life,but my paintings usually start with a color idea,than evolve into composition in which color is the primary subject.
I work in collage , various media on paper and canvas ,mixing everything possible together and bring it to others in a visual format. Much attention is given to the surface texture adding different materials,carving,scratching,gluing…creating  visual dialog.
I complete my work using drawing techniques and whatever else it takes to communicate my intended vision.
Curriculum Vitae
2022 Halde Gallery ,Widen , Switzerland  /September/
2017 Sonja Kobrehel Studio and Gallery -opening/Powell River/
2015 Waterfront Gallery, Vancouver , Canada
2015 Britannia Art Gallery ,Vancouver , Canada
2015 Halde Gallery ,Switzerland
2013  Vancouver, Canada , Firehall arts centre
2012  Vancouver,Canada, Waterfront Gallery
 2011 New York,USA, Amsterdam Whitney gallery
2010 Burnaby, Canada , Deer Lake Gallery
2010 Subotica -Szabadka , Serbia, Basch house
2010  Sechelt BC., Canada, The Doris Crowston Gallery, Between House and Home
2009  Vancouver 4th Wall gallery
2009  Vancouver, Canada,Gallery at Hycroft / The University Women's Club of  Vancouver
2008  Widen,Switzerland,Halde Galerie
2008  Vancouver ,Canada, Monny"s Envision Gallery
2008  Vancouver(Canada) Britannia Art Gallery :Color-Texture-Whimsy
2007  Nanaimo (Canada) 223 Gallery
2007  Niederrohrdorf(Switzerland) Moos Gallery
2007  Vancouver (Canada) Waterfront Gallery,Granville Island
2007  Vancouver (Canada) Seymour Gallery
2007  Winipeg, Canada, Color,Play & Whimsy 2.
2006 Winipeg , Canada , Color Play & Whimsy
2006  Kelowna (Canada) Art Ark Gallery
2006 Vancouver (Canada) Monny's Envision Gallery
2006  Widen (Switzerland) Halde Galerie
2005  Mercer Island/Seattle(WA.USA) " Jesters and Hearts" Mercer Island Art Gallery
2005  Richmond (Canada B.C.)"The Waiting Present" Richmond Art Gallery
2004  Widen (Switzerland) Halde Galerie-Traumwelten
2004  New Westminster (Canada) Plaskett Gallery
2003  Vancouver (Canada)Monny's Envision gallery-The time of magic
2003  Vancouver (Canada) 1529 Gallery -The Good Life
2002  Vancouver (Canada) Twizzle Studio
2001  Vancouver (Canada)  Monney's Envision Gallery
1998  Szeged  (Hungary) "IH" Gallery
1997  Subotica  (Yugoslavia) "Nepker" Gallery
1996  Subotica (Yugoslavia)Likovni Susret Gallery
1993  Budapest (Hungary) "FMK" Gallery
1993  Pecs (Hungary)"Ifjusagi Haz" Gallery
1991  Novi Sad (Yugoslavia) Hol Gallery
2022  Sopa Fine Arts, Kelowna , Canada
2022 Diversia-UN Calendar May 2022 An international Group EXhibition,Biafarin,Canada ,             Toronto
2021 Song-Word Art House, Westlake Village, CA,USA
2021 Halde Gallery , Widen , Switzerland
2020 Art Zurich ,Switzerland
2020  Spring Show , Halde Galerie,Widen,Switzerland
2020  Linked INNYC-Women Of The World.,New York , USA /postp./
2019 Art Studio Tour ,Powell River BC. Canada
2019  Kunst Schimmer 7, Ulm Germany
2018 Art Studio Tour , Powell River BC. Canada
2018 Suvretta house with Halde Galiery ,St Moritz Switzerland
2017 Winter Zauber-Halde Galerie , Swizerland
2017 Art Studio Tour, Powell River BC. Canada
2016  Circle Craft , Vancouver, Canada
2016  The Good Art Show, Waterfall Gallery, Vancouver
2014  Palm Art Award Competition ,Leipzig, Germany
2014  MEGA Fair with Halde Gallery Switzerland
2014  Shine a Light ,Vancouver , Canada
2013 Eastside Culture Crawl, Vancouver , Canada
2013 Art at the Port,Anacortes WA,USA, Juried show
2012 Winterzauber, Switzerland, Widen, Halde Galerie
2012 Eastside Culture Crawl , Vancouver , Canada
2012  Art at the Port, Anacortes WA, USA,Juried Show
2012 Art World Expo , Vancouver, Canada
2012  Serbia, Gallery of Open University, Small works , international exhibition
2012 Hungary, Nyiracsad , Mail art project
2011 Canada, Vancouver, The Cultch, The ECC Preview Exhibition:
         The Spirit of Eastside
2011 Canada, Vancouver, Eastside Culture Crawl /November/
2011 Serbia, Subotica,5.Biennial of Applied Art, Likovni Susret Gallery
2011 Canada, Vancouver , Bouquet of hope , Roundhouse
2011 Canada , Vancouver , "Doodle" Hunter Bisset Gallery
2011 Canada, Burnaby, Nordic Art & photography exhibit
2010 Canada, Vancouver,Flowers for food,Charity show ,Gachet Gallery
2010 Canada , Vancouver, Eastside Culture Crawl
2010 Germany , Hamburg, " Please Hold the Line" Mail Art Project
2010 Canada , Invermere , Summer strokes
2010 Switzerland, Widen,Halde Galerie
2010 Canada , Delta , Art Spacific, Juried Art Show /May/
2010 Canada , Vancouver, Seymour Gallery , Start with Art
 2009 Eastside Culture Crawl , Vancouver
 2009 Home and Design Show, Vancouver
2009  Canada , Vancouver , Vancouver Art Show , Heritage Hall
2009  Canada,South Delta Artirts Guild, Oil & Water, Tsawwassen Lognghouse gallery, juried exhibit
2009  Switzerland , Moos galerie," Potpouri "
2009  Canada , Burnaby, Nordic Art & Photography exhibit and sale
2008 Canada , Vancouver , The virtual Vancouver Art Gallery artist showcase,     Autumn Brook Gallery
2008  Canada ,Vancouver, eastside Culture Crawl
2008  Canada, Vancouver,Chapel Art Show
2008  Canada ,Vancouver , An Evening of Art , Gallery Gachet 
2008  Switzerland, Zuger Messe (Fall…)
2008 Canada , Vancouver, Seymour Gallery, Start with Art
2008  Canada (Burnaby) Nordic Art & Photography exhibit & sale
2007 Switzerland,Moos gallery , Advent Show
2007 Switzerland, SEETAL  2007 international Competition
2007 Switzerland (Widen) Halde Gallery-Spring show
2007 Delta (Canada) Art Spacific-Juried Show
2006  Switzerland (Widen)Advent show
2006 Canada, Hudson,Quebec,Galerie Harwood, WoW 2006
2006 Canada , Montreal  , Expo Art
2006  Switzerland, Brega 06 –Bremgarter Gegwerbeschau 2006
2006  Canada (White Rock) Euphorbia Rotary Art Exhibition-Juried Show
2006  Canada (Semi Salmon project) White Rock
2005  Belgium (Biron de Bouffioulx Omnisport de Chatelineau) Les Decourtenay Galleries,               Ambassadors'Artistic Competition
2005  USA(Mercer Island/Seattle) Mercer Island Art Gallery, Christmas Show
2005  Canada (Sydney) Main Street Gallery, Christmas show
2005  Switzerland(Widen) Halde Galerie-advent show
2005  Vancouver ( Canada)  Circle Craft
2005  Vancouver (Canada) Revival Gallery, Art Show
2004  White Rock(Canada) Euphorbia Rotary Art Exhibition-Juried exhibition
2004  Switzerland (Widen) Halde Galerie-advent show
2004  Switzerland (Widen)Halde galerie-Spring show
2004  Vancouver (Canada) Ayden Gallery
2004  Delta(Canada) Art Spacific – Juried exhibition
2004  Vancouver (Canada) Monny's Envision gallery-Spring show
2003  Vancouver  (Canada) Karma gallery
2002  Vancouver (Canada) 1529 Gallery
2002  Omaha (NE,USA) Miniature V International Juried Art Exhibition-Period Gallery
2002  Great Barrington (MA,USA) "Anything goes" exhibition,Gallery 304
2002  Anacortes (WA,USA) Art at the Port-Anacortes Arts Festival-Juried Art Show
2001  Vancouver(Canada) Monney"s Envision Gallery
2000   Raciborz (Poland) 3th International Biennial,Juried exhibition
1998  Cracov (Poland)International Print Triennial,Juried exhibition
1998  Raciborz (Poland) 2nd International Biennial,Juried exhibition
1998  Barcelona (Spain) International Miniature Print Exhibition MIG-89
1997  Budapest(Hungary) Exhibition of Hungarian and Yugoslav artists
1997  Baja (Hungary) City Museum
1997  Backa Topola (Yugoslavia)City Gallery
1996  Subotica(Yugoslavia) "Likovni Susret" Gallery
1996  Senta (Yugoslavia) City Museum
1995  Subotica (Yugoslavia) Likovni Susret Gallery
1995  Vrbas (Yugoslavia) "Vitalovi Suncokreti",Juried exhibition
1995  Sremski Karlovci (Yugoslavia)Salon of young artists,Juried exhibition
1995  Kanagawa (Japan) The 18th International independent exhibition of Prints
1995  Novi Sad  (Yugoslavia) "ULUV" Gallery,Juried exhibition
1994  Miskolc (Hungary) Library-Gallery
1993  Dunaujvaros (Hungary) Art Festival
1993  Backa Topola (Yugoslavia) "City Gallery"
1992  Budapest (Hungary) Korcsarnok,Juried exhibition
1992  Novi Sad (Yugoslavia) N.S. Cultural center
1992  Novi Sad  (Yugoslavia) Theatre Gallery
1992  Titel (Yugoslavia) City Gallery
1992  Kikinda (Yugoslavia)"Salon mladih",Juried exhibition
1989  Subotica (Yugoslavia) Annual spring exhibition "KSU" Gallery
1989  Subotica(Yugoslavia)"KSU" Gallery
2021 Artrepreneur -honorable mention for the Open Call "Turquoise"
2014  American Art Award-Abstract /Amerart/
2009  Oil & Water ,Tsawwassen , Canada, Award for artists achievement
2007  Vancity ,award  Art specific.Dalta, BC. Canada
2005  Best Of 123 SOHO 2005 Art Show , New York,USA
2004  Honourable Mention ,Artspacific, Delta (Canada)-Juried Exhibition
2002  Best of the Show-Anacortes(WA,USA)Art at the Port Arts Festival
1996  Municipal Award ,Hungarian National Restaurant interior  design,Subotica(Yu)
1995  Award for painting at the "Vitalovi Suncokreti" exhibition,Vrbas(Yugoslavia)
1992  Annual Award of "Milivoj Nikolajevic"fund,Drawing Award ALU Novi Sad
Art workshop/art colony':
2005/2006  Gallery in the Garden , Delta B.C. Canada
2004  Westham Island \Delta (Canada) Gallery in the Garden
1996  Backa Topola (Yugoslavia)Art colony
1995 Kecskemet (Hungary) Enamel workshop
1994,1995,1996,1999,2000 Tallya(Hungary)  East European Art colony
1994  Miskolc(Hungary) International Printmaking workshop
1992  Zobnatica(Yugoslavia) Art colony