Bio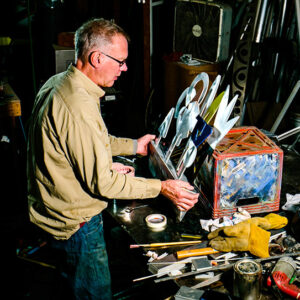 I am excited to share my work with you, as I am excited to enter my studio almost every day and continue where I stopped the day before. I really didn't stop, however; I played with what I am working on in my mind and now I am back again to pick up the trail.
Much of my work happens in series, as you can see with my Farms or Urban Bop pieces. As in music, I enjoy variations on a theme, and creating groups of pieces related by a theme allows me to pursue it from many angles.
I am a sculptor, and also a painter. I use my three-dimensional metal forms as canvases for a variety of paint applications.
A good amount of my work is created for site-specific locations. I am happy to work with you to create a piece or pieces for a particular site, and doing so is always an intriguing challenge. It is a reward to be able to change the landscape just a bit in a thoughtful manner.
If you see some music in my compositions, it is there, you are seeing and hearing it correctly. Music is quite important to me and to life.
Curriculum Vitae
1991
MFA, Painting and Drawing, University of Wisconsin, Milwaukee (UWM)
1981-84
Part-time studies, fine arts, San Diego Mesa College; San Diego City
College; University of California at San Diego
1981
BA, Art History, University of Wisconsin-Milwaukee
1988-Present
Self-employed artist
2011-14         Adjunct instructor, Milwaukee Institute of Art and Design
1987-99         Artist-in-residence, Quad/Graphics, Pewaukee, WI (part-time)
1976-78         Saxophonist, Jose Martinez Orchestra
2015
SFMOMA Artists Gallery, San Francisco, CA; 3 person show; Tory Folliard Gallery, Miwaukee, WI; group show; Moberg Gallery, Des Moines, IA; group show; James Gallery, Pittsburgh, PA; group show
2014
Sculpturesite Gallery, Sonoma, CA; group show; Tory Folliard Gallery, Milwaukee, WI; group show
Wisconsin Biennial, Museum of Wisconsin Art, group show; Gallery 224, Port Washington, WI; 3 person show
2013
"Out of the Suitcase", MIAD; group show; Coral Gables Museum, group show; Gallery IMA, Seattle, WA; solo show
2012
Joseph Gierek Fine Art, Tulsa, OK; group show; Gallery IMA, Seattle, WA; group show; Paine Museum of Art, Oshkosh, WI; 2 person show; Miller Art Center, Sturgeon Bay, WI; Focus on Color, group show; Cardinal Stritch University, Glendale, WI; group show; Universtiy of Wisconsin, Milwaukee; Continuum 2012, group show
2011
OK Harris Works of Art, New York, NY; solo show; Gallery IMA, Seattle, WA; group show; Tory Folliard Gallery, Milwaukee, WI; group show; Art in Public Places Sculpture Exhibition; Stamford, CT
2010
KH Gallery, Chicago, IL; 2 person show; Tory Folliard Gallery, Milwaukee, WI; group show
2009
University of New England – Portland Campus; group show; Tory Folliard Gallery, Milwaukee, WI; "Off the Wall", solo show; Moberg Gallery, Des Moines, IA; Group show, Works on Paper; Walkers Point Center for the Arts, Group Show, Milwaukee, WI
2008
SOPA Gallery, Kelowna, BC, Canada; 3 person show; Tory Folliard Gallery, Milwaukee, Anniversary Show; group show; Circa Gallery, Minneapolis, MN, 2-person show; Wisconsin Museum of Art, West Bend, WI; solo show
2007
OK Harris Works of Art, New York, NY, solo show; Tory Folliard Gallery, Milwaukee, WI; 2 person show; MIAD (Milwaukee Institute of Art & Design), group show
2006
Kajima Sculpture Awards Exhibition, Tokyo, Japan; group show; Fresh Paint, Los Angeles, California; group show; Mary Bell Gallery, Chicago, IL; 2-person show; Continuum 5; Univ. of Wisconsin, Milwaukee, Inova, group show
2005
Paint on Metal, Tucson Art Museum, group show; Cardinal Stritch University, Glendale, WI; solo show
Lakeland College, Sheboygan, WI; solo show; Luckystar Gallery, Milwaukee, WI; group show
2004
Noyes Cultural Arts Center, Evanston, IL; group show; Waukesha Civic Theater, Waukesha, WI; 2-person show; Robert Kidd Gallery, Birmingham, MI, group show; 3rd Ward Sculpture Exhibition, Milwaukee, WI
2003
Sylvia Schmidt Gallery, New Orleans, group show; West Bend Art Museum, WI; group show; Wisconsin Presents, Wisconsin Lutheran College, group show; Gingrass Gallery, Milwaukee, WI, group show
2002
OK Harris Works of Art, NY, NY, solo show; Mad River, San Francisco, group show; Ira Pinto Gallery, Washington DC, group show;l Navy Pier Sculpture Exhibition, Chicago, IL, curated by Dave Hickey
2001
Andrea Schwartz Gallery, San Francisco, CA, group show; Mary Bell Gallery, Chicago, group show; Europa Gallery, Hannover, Germany, group show; Nortel Networks Gallery, Santa Clara, CA, solo show; West Bend Art Museum, West Bend, WI, featured outdoor sculpture
2000
Pier Walk 2000 Sculpture Exhibition, Chicago, IL; Mary Bell Gallery, Chicago, IL, group show ; Woodlot Gallery, Sheboygan, WI, group show
1999
DeLind Gallery, Milwaukee, WI, group show
1998
Beyond the Object: Public Art, Milwaukee Institute of Art and Design
1994-96
Peltz Gallery, Milwaukee, WI, group show
1992
La Galleria Del Conte, Milwaukee, WI, group show
1991
Master's Thesis Show, University of Wisconsin-Milwaukee
1989
Aristoi Gallery, Milwaukee, WI, solo show
1988
UWM Union Gallery, Milwaukee, WI, "Really Big Shoe"
1983-84
San Diego Art Institute, group show
550 Washington Building, Chicago, IL
All Saints Hospital, Racine, WI
Allen Bradley Corp., Milwaukee, WI
Blettner Building, Madison, WI
Children's Hospital, Milwaukee, WI
Curative Rehabilitation, Milwaukee,WI
Eppstein Uhen Architects, Milwaukee, WI
Esker Hall, UW-Whitewater, % for Art Commission
Flad Architects, Madison, WI
Froedtert Memorial Lutheran Hospital, Milwaukee, WI
General Electric Medical Systems, Pewaukee, WI
Guaranty Bank, Milwaukee, WI
SC Johnson Co., Racine, WI
Kaiser Hospitals, CA
Marnell Corrao, Shreveport, LA
Mayo Clinic, Rochester, MN
Medical College of Wisconsin, Milwaukee, WI
Meijer
Milwaukee Public Central Library
Mc Kinley Marina, Milwaukee County
Quad/Graphics, Pewaukee, WI; Sussex, WI; Lomira, WI; The Rock, GA; Saratoga Springs, NY
Rockwell International, Milwaukee, WI
Ruud Lighting, Racine, WI
St. Lukes Hospital, Milwaukee, WI
Santa Clara Valley Medical Center, Santa Clara, CA
Sutter Gould Medical Foundation, Modesto, CA
U.S. Robotics, Chicago, IL
Virchow Krause, Madison, WI
Valley Center Hospital, Santa Clara, CA
SELECTED COLLECTIONS
Federal Reserve Bank of Chicago
Nieman Marcus
SPX
Visa
General Electric Medical Systems
Quad/Graphics
Rockwell International
Rouse Properties, NY, NY
Southwestern Illinois College, Belleville, IL
Koehler Winery, Santa Barbara, CA
Hewlett-Packard
University of Wisconsin – Madison
University of Wisconsin – Milwaukee
University of Wisconsin – Green Bay
PUBLIC ART PROJECTS / COMMISSIONS
City of Beaverton, OR
City of East Lansing, MI
City of Skokie, IL
City of Dowagiac, MI
City of Wauwatosa, WI
City of Mount Vernon, IL
City of Green Bay, WI / Northeastern Wisconsin Arts Council
City of Waukesha, WI; Transit Center
City of Atlanta, GA; Hardy Ivy Park
City of Beaverton, OR; City Park
Universty of Wisconsin, Parkside
University of Wisconsin, Whitewater
General Mitchell International Airport, Milwaukee, WI
State of Louisiana, LaSalle Building, Baton Rouge, LA
PUBLICATIONS
"Paint on Metal", Tucson Museum of Art, 2005
"Navy Pier Walk", Chicago Navy Pier Sculpture Exhibition, 2002
AWARDS
Artist of the Year, 2011; Milwaukee Arts Board
Louis Weinberg Sculpture Competition Winner, Skokie Sculpture Park, Skokie, IL; 2011
Semi-finalist, Kajima Sculpture Competition, Tokyo, Japan 2005
ART DONATED FOR GOOD CAUSES
Alzheimers Fund, Milwaukee, WI
SRAM Bikes for Africa, New York, NY
AIDS Auction Milwaukee
Art Pop, Art for AIDS, Milwaukee, WI
Oshkosh Nutcracker Fund, Oshkosh, WI
Madison Youth Symphony, Madison, WI
Team Connor Childhood Cancer Foundation, Dallas, TX
MIAD Scholarship Fund, Milwaukee, WI