Helder Batista
Cahors, France
Bio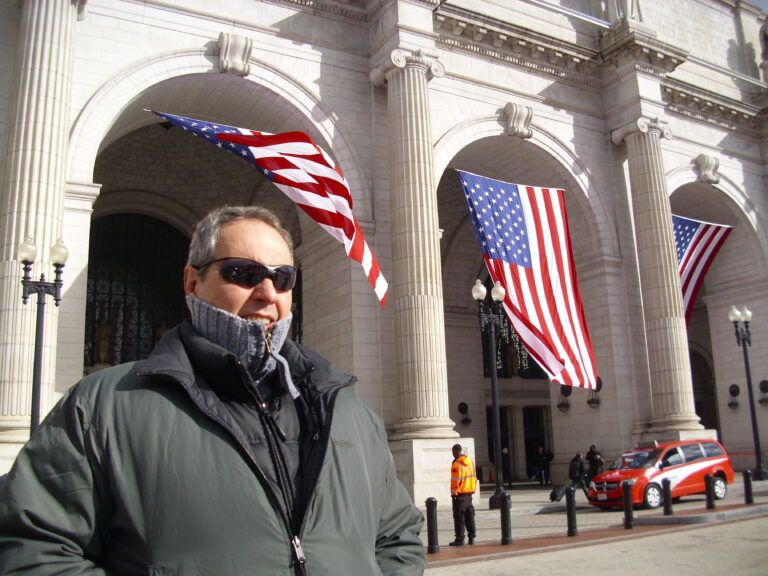 Helder Batista est un artiste autodidacte qui travaille aussi bien la sculpture que la peinture. Il est né en 1964 à Paris où il a suivi les cours du soir des Beaux-arts. Il vit et travaille dans le Sud Ouest de la France.
 Pluridisciplinaire il appréhende différents matériaux et différents supports tels que la résine, les inclusions, le béton, le bois, le néon, la peinture à l'huile. Il sculpte et peint tout ce qui l'interpelle.
Son travail artistique est souvent ambigüe et symbolique, il part du principe que
« L'Art est une liberté d'expression dont seul l'Artiste en limite les frontières »
A ce jour, plus interpelé par la sculpture primitive, il se focalise sur Stonehenge, Ile de Pâques. Il revisite à sa façon ce lieu mythique et mystique. Ses créations reflètent ce que seraient les sculptures primitives de nos jours (couleur, forme, matériaux)
…
Helder Batista is a self-taught Artist who works both sculpture and painting. He was born in 1964 in Paris where he took evening classes at the Beaux-arts. He lives and works in the South West of France
Multidisciplinary, he apprehends different materials and different supports such as resin, inclusion, concrete, wood, neon, oil and acrylic painting. He sculpts and paints everything that concerns him.
His artistic work is often ambiguous and symbolic, he assures that;
"Art is a freedom of expression of which only the Artist limits the borders"
To this day more concerned by the primitive sculpture, he focuses on Stonehenge. He revisits in his own way this mythical and mystical place. His creations reflect what the primitive sculptures would be today (color, form, materials)
Curriculum Vitae
Début Artiste Professionnel 2007  (maison des artistes)
Salon des Indépendants 2008
GMAC 2008/2009/2010/2011/2012/2013
Art en Capital (Comparaison)  2008/ 2009/ 2010/2011/2012/2013/2014/2015
Cutlog ( off de la FIAC): Galerie Geraldine Banier    2010
Affordable Art Fair Bruxelles : Galerie  Art jingle  2011
Salon Balt'Art    2011/2013
Art Toulouse 2012/2013
Affordable Art Fair Milan 2013
Design D Dubai Galerie twenty twenty one 2013
Beyrouth Art Fair Galerie twenty twenty one 2013/2014
Lyon Art Fair Galerie Galea 2014
Art Paris
Art Up
Star't Srasbourg
Affordable Art Fair Bruxelles
Affordable Art Fair New York
Battersy Londres
Art Tentation Monaco
Scope Miami 2018
Art Los Angeles 2019  
Art Wynwood Miami
Naples art Antique
Home design show Miami
Art Seattle
Art Santa Fe 2019
Context New York 2018
Context Miami 2018
W.Hôtel Washington DC Artist's Proof 2018
Miami Beach show 2019
Red dot Miami 2019
Sofitel Washington DC Artist's Proof 2021
Show Palm Beach Galerie Lorence Février 2022
Discovery Koln Galerie Charron28 Avril au 1Mai 2022 
Paris Gallery weekend Galerie Charron Intimiste du 17 Mai au 22 Mai 2022
Street Art mur de 370 mètres carrés avec une association internationale Erasmus Juillet 2022
Galerie Vieceli Cannes Paris 2018 à ce jour
Galerie Charron Paris 2020 à ce jour
Ki Galerie Paris 2020 à ce jour
Ellia Art Gallery Paris 2019 à ce jour
Galerie Géraldine Banier 2010 à 2019
Galerie  Menouar 2010 à 2018
Galerie  Art jingle 2010 à 2013 et 2022
Galerie Galea 2012 à 2018
Galerie Next 2012 à 2013
Galerie Daudet 2013 à 2018
Galerie Artélie 2013 à 2017
Galerie Colorfield 2014 à 2014
Galerie Petit Jean 2006 à 2016
L.A.G.Lorient Art Galerie 2018 à ce jour
Artist's Proof Washington DC 2014 à ce jour
SOPA Fine Arts Vancouver CB 2019 à ce jour
J.Mackey Gallery East Hampton 2022 à ce jour
London Contemporary Art Londres
Galerie Samhart Suisse
Heart2 Gallery Mons Belgique
Didier Lorence DLA Gallery Puerto Rico
European Art Design Miami 2019 à ce jour
Galerie Art §emotion Suisse 2017 à ce jour
Galerie KreislerArt Madrid Dubai 2017 à ce jour
Ecoles de l'espoir pour les enfants de toute confession  2011/2012/2013/2014/2016/2017/2019/2020
Recherche contre le Cancer Pr Israël 2013
Pour les enfants défavorisés Assouline 2014
Fondation Brigitte Bardot 2016 /2021
Pour les chiens guides d'aveugles