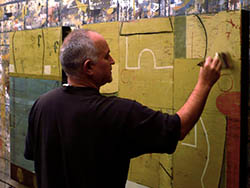 Shemchuk's titled work "tags" is a series of mixed media, contemporary abstractions.
" I associate the word "tags" to mean identity or identify, as in territorial tagging" or site tags. The tags series incorporates paper and paint and graphite as the mediums to express this idea of tagging. I source my materials directly from the paper recycle bin as well as paint from the mis-tint recycle bin at the local paint store."
"I have a belief that paper is on an arc of obsolescence. Therefore, I use paper not only to highlight it's temporal existence, but to preserve its integrity as the historic medium we use to communicate, as well as an art making material."
Shemchuk engages in a process of working simultaneously with both paper and paint to create an environment of controlled randomness, a playfulness really. A hit or miss scenario of gluing, painting, tearing, sanding, scraping and cutting into the wet or dry surface thus creating a work of 'Abstraction by design'. The completed works are evolved contemporary landscapes, revealing overlapping details of our daily lives.
Michael Shemchuk is an accomplished abstract painter who is represented by fine art galleries both nationally and internationally. His succinct, sometimes dramatic use of color, shape, line and composition inform a pictorial space layered with visual meaning and an undeniable intentionality. His paintings express forms that seem to lie in the exact and precise place they were inherently meant to be, which works together with a unique color sensibility and a rich varied surface to create powerful abstract works.