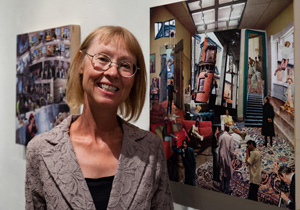 The artwork of Jen Dyck is predominantly narrative in nature, focusing on the human condition—how it feels, how it looks, what it does and with whom. The artist has worked with acrylic and pastel in her art practice but gravitates toward collage; especially these past few years while she's been using dream material for her imagery. Jen suggests the process of collecting material from various contexts is akin to the way dreams seem to be put together by the psyche.
"I'm interested in the unconscious, the sub-text, in the unacknowledged emotions and agendas. All the stuff packed away in the basement."
~ Jen Dyck
Looking closely at the content in Dyck's work, some pieces feel like fables, except there is no text to tell us what the moral is. Some images evoke old-fashioned nostalgia, reminiscent of the silent movie era. Many scenes hint of political issues, mixed with an entertaining dose of cheekiness. As if Charlie Chaplin were being directed in a movie by Norman Rockwell. But it's Dyck's exceptional ability to create three dimensional scenes out of random and unrelated bits, that immediately draws us in. The moral might simply be to enjoy creativity at its finest.