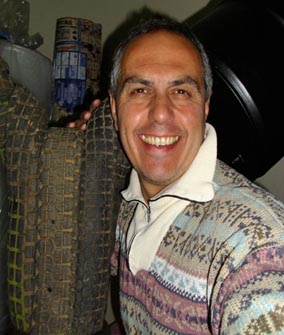 Helder Batista is a self-taught Artist who works both sculpture and painting. He was born in 1964 in Paris where he took evening classes at the Beaux-arts. He lives and works in the South West of France
Multidisciplinary, he apprehends different materials and different supports such as resin, inclusion, concrete, wood, neon, oil and acrylic painting. He sculpts and paints everything that concerns him.
His artistic work is often ambiguous and symbolic, he assures that;
"Art is a freedom of expression of which only the Artist limits the borders"
Helder Batista
To this day more concerned by the primitive, in his sculptural work, he focuses on Stonehenge. He revisits in his own way this mythical and mystical place. His creations reflect what the primitive sculptures would be today. (color, form, materials) His paintings have an urban edge and much like his 3D work, they resist straight edges and sharp lines, feeling organic yet vibrant.